Have you ever wondered what it would be like to travel the world, in an RV? Leave all the boring everyday tasks and start discovering the world around us. So many wonderful areas to see, and who can afford airfare, even at that you miss so much being in the air. These articles will give you some truthful times people have had in their times of travel!
In these books they have covered thousands of miles, and have gotten surprised a few times.  Even after we bought books, and interviewed other RVers. They fail to mention a few items, that would have been nice to know about, before we started.  Here you will find is a list of many of the need to know proven ideas.
  "We wouldn't go back to that other life for anything….
The freedom we have is simply amazing. And while we still deal with everyday life, there is serenity all around us. It's a slower pace, a simpler life, and we are much more deeply connected and happy."
— Howard Payne, Full-Time RVer and RV Freedom Now Story Contributor
If you are dreaming of a Full-Time RV Life
It's time to stop dreaming and take action!
Discover the 10 Steps You Need to Live the Ultimate RV Lifestyle
from Real-World People Already Doing It.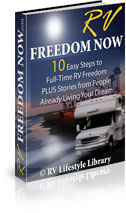 These reports will have you feeling good, and help you prepare for the wonderful RV living lifestyle.  They address issues for Full Time Rvers, and Part Time RVers before, during and after.  Most of all feel the excitement of travel and discover so many attractions waiting for you! Come enjoy our Secrets report!